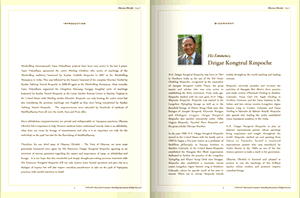 We are delighted to bring to you the Dharma Dhrishti Journal—View of Dharma. The journal is founded on the vision of Her Eminence Jetsün Khandro Rinpoche and Mindrolling Jetsün Dechen Paldrön, conceived with the aspiration to convey to a worldwide audience of Buddhist students the wisdom and teachings of our great living masters. The journal contains introspective viewpoints and information on various relevant and important topics on the Buddhadharma and its practices from some of the great contemporary Tibetan Buddhist teachers.
Insight into the Timeless Teaching of the Buddha
Dharma Dhrishti aspires to bring answers to some of the frequently asked and debated questions relating to various aspects of Tibetan Buddhism as well as to assist students of Buddhism in gaining insight into the wisdom of the timeless teachings of the Buddha mainly in two ways. Firstly, through allowing students to directly pose questions to the great teachers currently teaching in the West today and secondly by inviting the same teachers to teach on topics, points or issues that they believe need clarification or are of benefit to the students on the path of practice. We also hope that some of the issues arising from misconceptions and incorrect information regarding the Dharma may be clarified and or refuted by the learned masters of our day.
Questions or Comments
General Inquiries
If you have any questions or comments regarding Dharma Dhrishti,
please email us at mindrollinginternational@gmail.com
Web and Technical Inquiries
For web problems or technical inquiries,
please send email to web@mindrollinginternational.org